There's a new reality show coming to TV,(Do we really need another one ?) and this one will be about poker players. Titled Face the Ace, it began filming in early July at the Golden Nugget Hotel and Casino in Downtown Las Vegas, and is scheduled to air on NBC Saturday, August 1st at 9pm Eastern.
The show will feature online poker qualifiers going against a team of "Aces" for a grand prize of $1 million, and the Aces are some of the best Pros that Full Tilt Poker has to offer. The cast of Pros are Phil Ivey, Chris "Jesus" Ferguson, Jennifer Harman, Erick Lindgren, Howard Lederer, Phil Gordon, Erik Seidel, and Gus Hansen just to name a few and will be hosted by Steve Schirripa, actor and "Sopranos" star.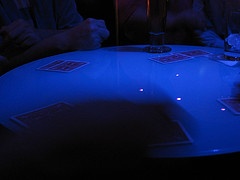 This all sounds like it will be part reality and game show, and with the cast of Poker Pros that are going to be in it, maybe it will go over big for NBC and FullTilt. I'm thinking with it being on one of the big networks at a primetime that it could be good for the industry , as a way to show that poker players are not the shady type characters that a lot of folk try to imply. I'm just not too sure will even last long though…
Based on what I have read, each episode of the show has an online qualifier who will have to pick one of four smoked-glass doors and play an initial heads up match against which ever one of the Aces are behind that door. (Makes me think of the old Lets make a deal show !) If the player wins the first match against the Ace, they then decide if they quit or keep playing. If the player chooses to play the next round, they must risk their winnings.
Successfully defeating three pros in a row will result in the contestant winning $1 million, but if the contestant loses any of their matches, they go home with nothing.
The show is being produced by POKER PROductions, which also produces "Poker After Dark" for NBC and dates for the show to air are ;
August 1st, 2009 – 9:00pm ET
August 8th, 2009 – 9:00pm ET
September 12th, 2009 – 2:00pm ET
October 31st, 2009 – 3:30pm ET
November 14th, 2009 – 3:00pm ET
December 12th, 2009 – 3:00pm ET
January 2nd, 2010 – 2:30pm ET
[thanks to wavingatyou and carolina gambler via cc]