Atlantic City is getting the MGM Mirage.
Plans have been announced to build a $5 billion dollar complex in 2012 which is currently nicknamed City Center East. This place is going to be HUGE. It's going to have the biggest casino in the state, restaurants, spa, convention center, 1,500 seat theater and a 3,000 room hotel.  The casino project will be constructed on a 72 acre property near the Borgata, which is jointly owned by MGM and Boyd Gaming.
"Our company has carefully considered the possibilities for our landholdings in Atlantic City. We believe the success at Borgata demonstrates the eagerness for further evolution of the nation's second-largest gaming market," says Terry Lannie, executive for MGM Mirage.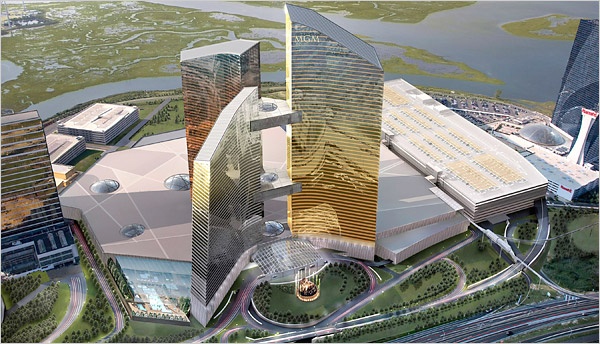 Big and tall casino
Not only is the project the biggest in Atlantic City, it's also the tallest. There's going to be three separate towers, each giving guests a different experience. For those shopping aficionados out there, it's going to have a 500,000 square foot retail area. For us casino aficionados, it's going to be the largest casino floor in New Jersey, with an enormous poker room, 200 table games, and 5,000 slot machines. There's also going to be 12 acres that they're setting aside for future development, like a residential tower.
The Atlantic City casino market
With this announcement, it really makes you think how this will affect the overall casino market in Atlantic City.
Like everything, unless things move and update with the times, you're liable to be left behind. The newer casinos in Atlantic City have put tons of pressure on the older casinos to keep up, and not all have been able to.
Donald Trump has definitely got the money and cash to update though. He's spent $225 million so far to upgrade the rooms in his 3 Atlantic City casinos and he's going to spend another $250 million of his cash to add another tower to the Taj Mahal Casino Resort. The Sands Casino Hotel is getting demolished and will be replaced with a $2 billion casino resort.
But what about the smaller casino joints in the area? Can they survive?
It reminds me of what happened when the big box retailers like Best Buy and Walmart started infiltrating the small towns. They totally dominate the local market and destroyed the mom-and-pop stores. Nowadays, the name of game is specialization. A small place cannot compete successfully with these enormous companies with unlimited budgets. If we continue the analogy with the mom-and-pop stores, the only ones that have been able to prosper and stay alive are those that have specialized in a certain thing (like car rims and customizations) and service industries (janitorial, contractors, legal).
How can small casinos compete then?
It's not an easy question, but it's got to do with doing your own thing. Don't be another MGM Mirage. Be the best at one thing. Or be the only one doing that one thing. That's what gets the word going. That's whats going to keep you afloat. And don't rest on your laurels. Keep innovating.