The World Strip Poker Champion for 2007 has been chosen.
John Young, a 32-year-old freelance writer from Slough, a town just west of London England, beat 200 other strip poker players and won the £10,000 prize.
He then removed his remaining clothes and because of that, 10,000 pounds were donated to charity. How about we give him 10,000 pounds to
keep the clothes on
?
"We said we would give 10,000 pounds to Cancer Research if John dropped his trousers at the end of the match and he duly obliged," a spokesman for Paddy Power, an Irish bookmaker who were the organizers for the event.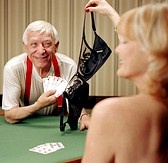 The eight hour World Strip Poker Championship competition involved men and women from 12 countries and was held in Cafe Royal in central London with the strip poker contenders leaving nothing on the table (literally) in games of "No Limit Texas Hold 'em". Maybe we should call it "No Limit Texas Drop 'em"?
The organizers actually weren't planning on getting this World Strip Poker going. It was first thought off as a marketing stunt on April Fools. But it turns out people like playing poker and looking at naked people at the same time. It's quite the revolutionary concept.
I personally love strip poker but only if everyone at the table except me is female. And good looking. And bad at playing poker. And been doing Jägermeister shots.
Strip poker apparently has very strict rules. Each player had to start the match with five pieces of clothing that the organizers supplied.
The nice guys that Paddy Power are (By the way, what a horrible name for a company – Paddy Power?) they gave the naked strip poker losers a towel to cover themselves with. This makes those people sitting at tables with warpigs very happy as no one wants to see four hundred pound nude hippopotamuses at your table. It really breaks your concentration and make you projective vomit in everyone's face.
They also gave you a towel to sit on when you got naked. No one wants skid marks on the prestigious white plastic chairs. Remember, strip poker is a prestigious game of skill!